We are always looking to broaden our reach, and in 2022 we are piloting a new program to offer our services to smaller colleges and universities.
We are offering a suite of affordable, lightweight NOC services including basic network monitoring, traffic volume data, network performance, and more. Dubbed "GlobalNOC Light," the initiative is aimed at campuses whose needs are not as unique or time intensive as large, complex campus or wide area networks.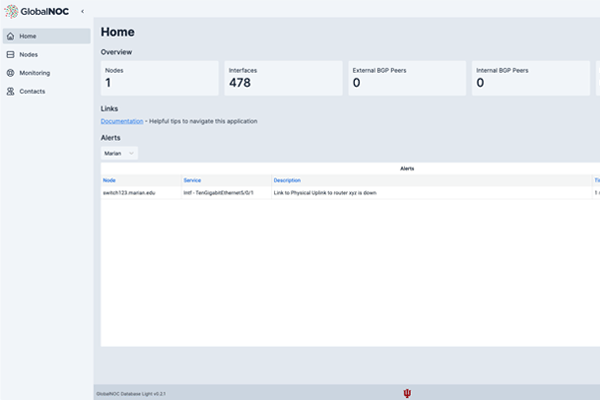 Here's a screenshot of the GlobalNOC Light dashboard, specifically the "home" pane that shows overall status of the service and any active alerts. 
The project got a boost earlier this month when our engineers installed equipment at Marian University in support of the first GlobalNOC Light pilot. Located in Indianapolis, Marian University is a private Roman Catholic university with about 4,000 undergraduate and graduate students and more than 40 majors.
GlobalNOC Light has been designed for easy adoption and maintenance by campus IT staff. The service is built using GlobalNOC's best-of-breed operations automation platforms. Using a simple configuration console, campus IT staff can set a high-level monitoring policy for their network, while GlobalNOC Light automatically and constantly updates monitoring based on this policy when we detect changes in the network via automated polling.  
How do potential clients get started? We'll provide an appliance for their campus—either virtual or physical—in order to securely connect their network to the GlobalNOC. Our auto-discovery agents will handle most initial and ongoing enrollment of their network devices into the service. When new devices are discovered, clients are asked to provide extra information to complete enrollment and ensure we're correctly monitoring the new device.
By leveraging standardized network management interfaces, we're able to monitor a wide variety of network devices and services including: reachability (Ping), interface up/down, interface traffic level, interface errors, and BGP up/down where supported by equipment using the standard MIBs.
GlobalNOC Light also features active engagement by our 24x7x365 Service Desk for clients' most critical issues (as defined by the client). Our service includes live engagement in a small number of critical incidents per month. For these incidents, our Service Desk staff will be responsible for reacting to an alert on the client's network 24x7x365 and directly engaging their staff to hand off the issue.
Interested in learning more about GlobalNOC Light? Contact us for more information.